This is a complete overview of a website structure to go from 0 to 1K plus organic traffic to grow your business online.
In this step-by-step post, you'll learn:
So if you're ready to build "a rock solid" structure to grow your traffic, this instructional post is for you.
Let's dive right in to build a foundation to get you from zero to one thousand organic website traffic from search engines.
What is website structure?
Website structure is the process of planning how you'll organise your website content.
During this process, you decide the hierarchy of your website pages:
Your category pages
Your cluster pages
Your supporting pages/posts
For example, our website structure is as follows:
Category pages
Blog posts

Importance of a website structure to get organic traffic
Website structure is critical to help search engines navigate your website and guide them about the essential content pages.
Below are the three essential reasons to have a solid website structure.
Content management: A rock-solid website structure can greatly help you with the content management of your site, particularly for larger websites.

User experience: A good website structure improves the user experience of your website visitors. When you have properly categorized your pages and posts, it becomes easier for your users to access them, enhancing the site's overall UX.

Search engine optimization (SEO): The importance of a solid website structure can not be ignored when it comes to SEO. A good website structure helps search engines crawl your website easily and index pages.
Search engines are bots; without your help, they can't determine what is important on your website.
Website structure best practices
Following are some of the best practices to follow while creating your website structure:
Use an SEO-friendly URL and permalinks structure: Keep it short, use lowercase words; URLs should make sense to human beings, not just bots, etc.

Navigation menus: Plan your navigation menus strategically; they should represent the importance of your pages to your users; also, avoid using drop-down menus.

Always use category pages: Category pages will help you maintain the structure of your website over time and organize content better. It is recommended to only assign one category to each post.

Heading hierarchy: Once you have the hierarchy of your website sorted, it is important to pay attention to the headings and optimize them as H1, H2, H3 and so on. Make sure to insert the best possible keywords in H1 and H2 for better visibility on SERPs.

Show breadcrumbs: Breadcrumbs can be defined as a short navigation menu that helps your users get around your site. It also helps Google's crawlers crawl through the website easily.

Internal Linking: Internal linking is another important point when it comes to developing a strategy. It is essential to interlink your best pages/service pages with other relevant pages to enhance UX and the importance of your pages.

Sitemap: Don't forget to add a sitemap of your site. It shows users and Google how to navigate your site; it basically defines the entire structure of your site.
As a rule of thumb, all your important content pages must be accessible to search engines within three clicks, ideally within two.
The lower the page path, the lower the page importance in search engines' eyes.
Why is that?
If your pages can't be accessible within two or three clicks, search engines consider that it is not important content for you.
Also, if you are not giving importance to your own content, why should search engines?
And if you want search engines to give any of your website page importance and more visibility, review your website architecture and check if you are giving importance to your website page in the first place.
Here are a few ways to ensure that all your important content pages are accessible within three clicks from your homepage.
Add links to your main pages in the navigations (1 click)
Create pillar pages and link all pages (2 clicks)
List all your blog posts on one page (2 clicks)
Different types of website structure layouts
There are multiple website structural layouts; the following are some of the common ones:
Hierarchical website structure:
The hierarchical website structure is the most popular. These are most common for larger websites with lots of information and content. In simple words, it has a homepage, top category pages, and then subpages or child pages.
Linear website structure:
Linear structure is used for more straightforward websites with fewer pages and less content. It's generally created by having the main page or landing page, then a few parent pages that can be viewed straight in the line below the main page, or left to right and vice versa.
Webbed website structure:
Webbed website structure is just as the name represents. It has a similar usage as Hierarchical with the difference that the homepage, parent pages, and subpages are interlinked to each other, and each page on the website can be accessed with minimal links. It is most commonly used for eCommerce websites.
Sequential model:
Sequential model structure layout is common when it comes to leading users through a sequence, like onboarding a customer or helping him/her sign up by guiding them through a step-by-step process.
Tiered website structure:
Tiered website structure can be defined as mixing multiple hierarchical structures together. It is used for websites that have an enormous amount of information to display. For example, a corporation that has different services, therefore, it will have different main pages, parent pages and subpages for each category.
Hybrid website structure:
A hybrid structure is also used by large business websites. It is a mix of hierarchical and sequential structures made with the view of keeping it as much user-friendly as possible.
Website structure will primarily depend on your requirements and the type of your website.
How to create an SEO-optimized website structure
Creating a website structure should be simple for building a new site.
You need a pen, paper and the following:
Master keyword for homepage
Secondary keywords for category and cluster pages
Plan to link back all other pages/posts to the relevant categories and cluster pages
The success of this website structure depends on the following:
Choosing your niche: Smaller the better
Quality keyword research: Reasonable search volume, low competition and high commerciality
Clarity of your offer: How your offer helps your prospects thrive or survive
Quality of supporting content: Simplicity and helpfulness of your offer/category pages and posts.
Creating quality content regularly is one of the most challenging parts of getting any website from 0 to 1K plus organic traffic.
Regular content creation requires constant:
Research
Content ideas
Writing
Images
Link building
However, if you have a tight budget and limited resources. You can get much better results by updating, improving and promoting your existing pages and posts instead of producing low-quality regular content.
For example:
In 2007, Mehdi started Strong Lifts, and his goal with his website was to help his readers gain strength and muscle by lifting heavy weights.
I understand he used the following simple (not easy) content plan.
Website title
Strong Lifts: Help you gain strength and muscle by lifting heavyweights
Category Pages
Squat
Bench Press
Deadlift
Overhead Press
Barbell Row
Pullups
Dips
Content
He has written over 250,000 words (almost three books) within the above category pages only.
The quality and depth of his content left no stone unturned to establish his authority in weight lifting.
The image below shows you the results of his crystal clear website layout, keyword research and his hard work in creating quality content.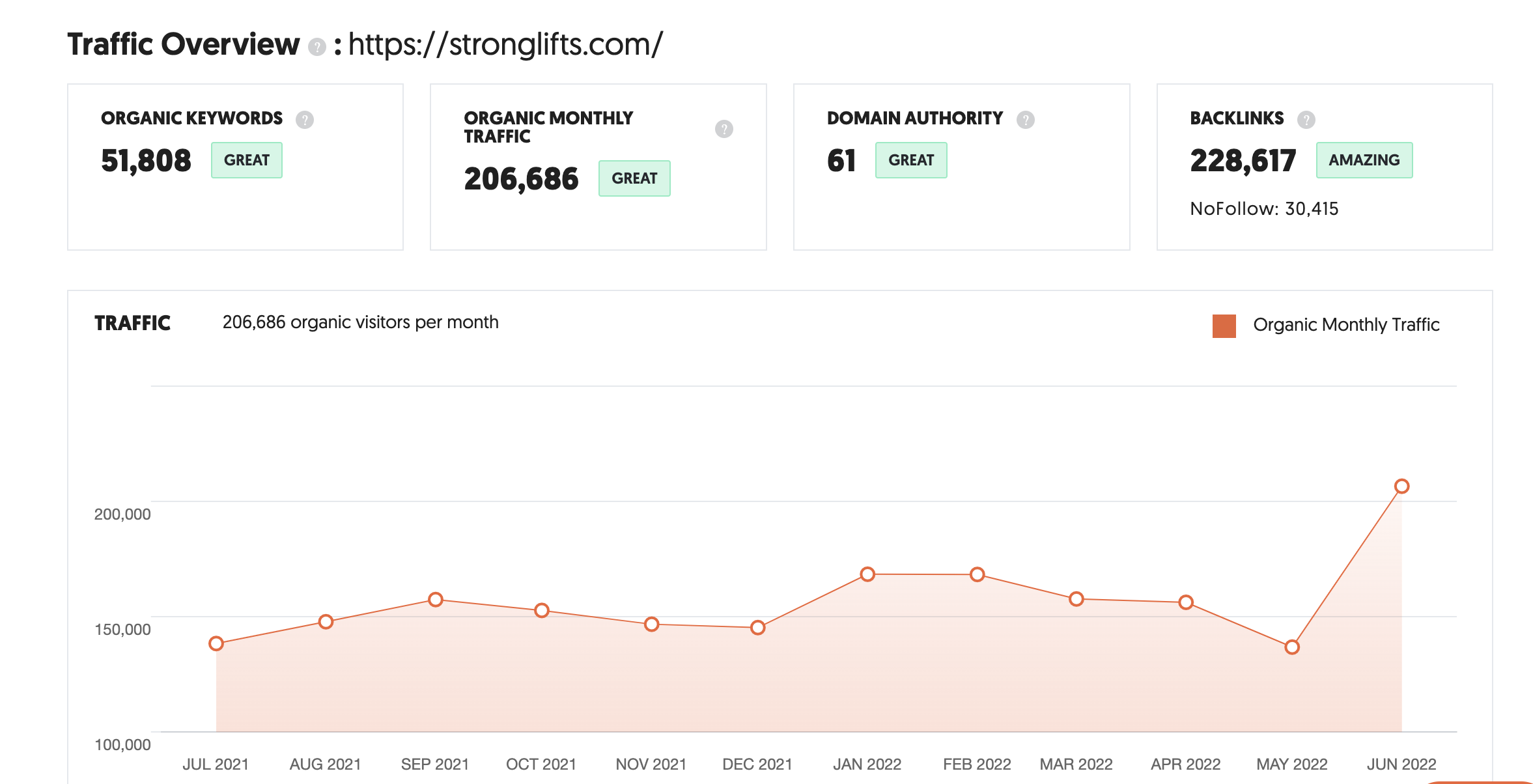 Best website structure examples for high-traffic websites
Let me share my favourite website structure templates for some of the high-traffic websites.
JamesClear.com
1st Click
A single click from the homepage takes you to a page where you can access all his website content.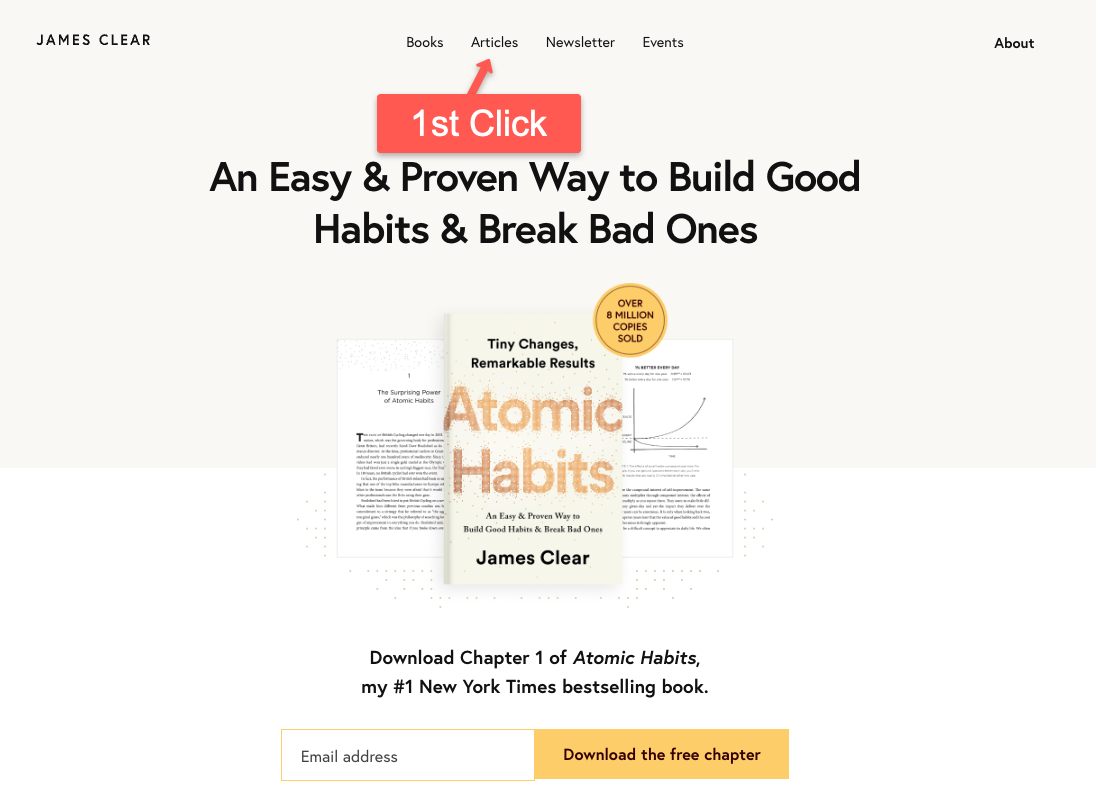 2nd Click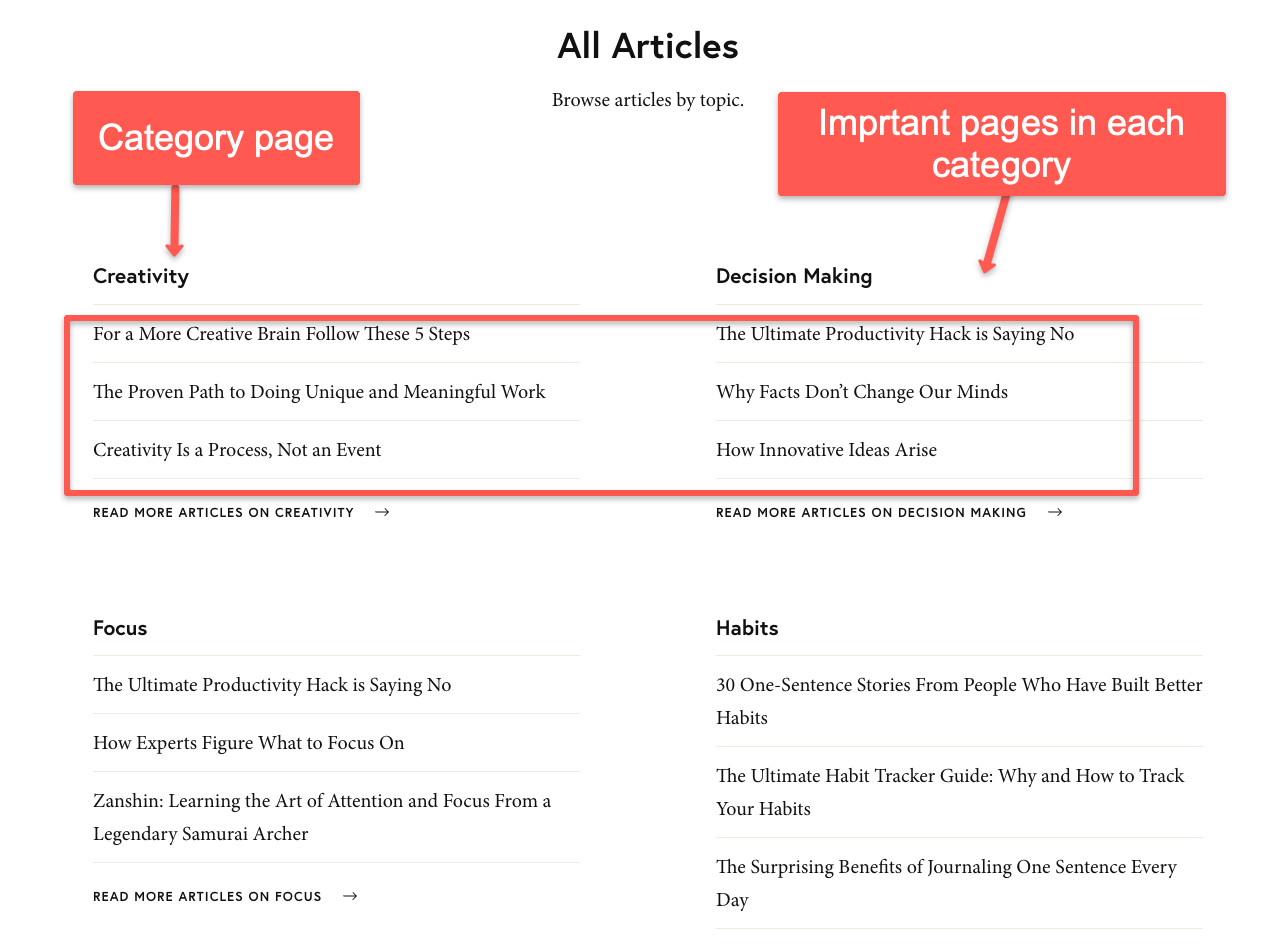 3rd Click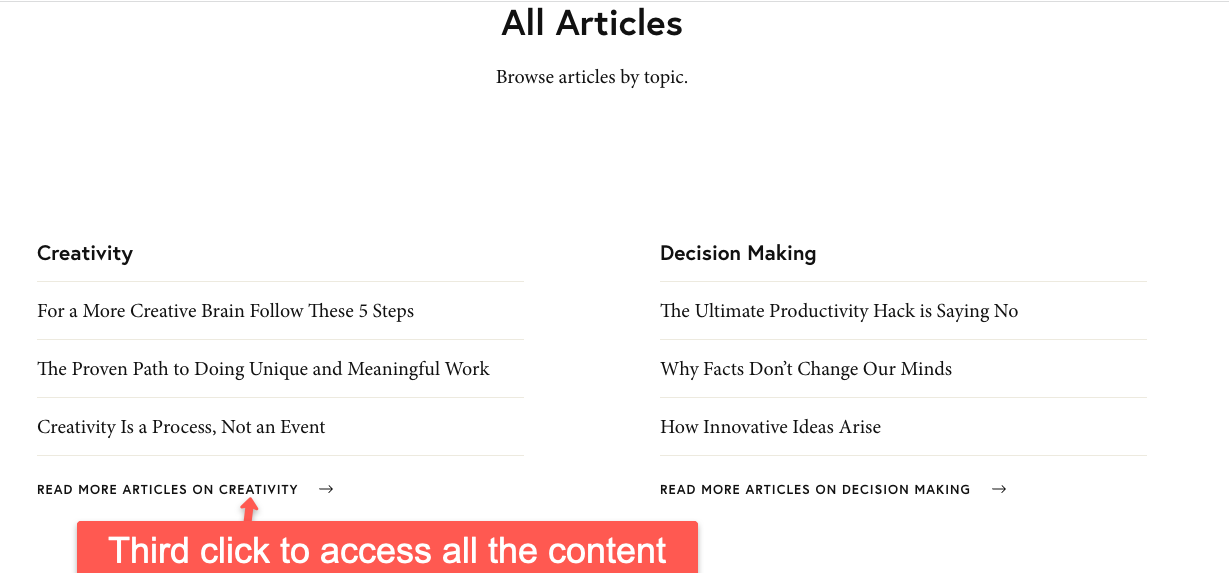 ---
These are proven website structure designs that can help you structure your website for success.
Website Traffic
James's website gets over 1.8 million organic traffic from search engines. Of course, it is not only because of how his website's layout.
However, I believe his website structure must have played a significant role in overall SEO success.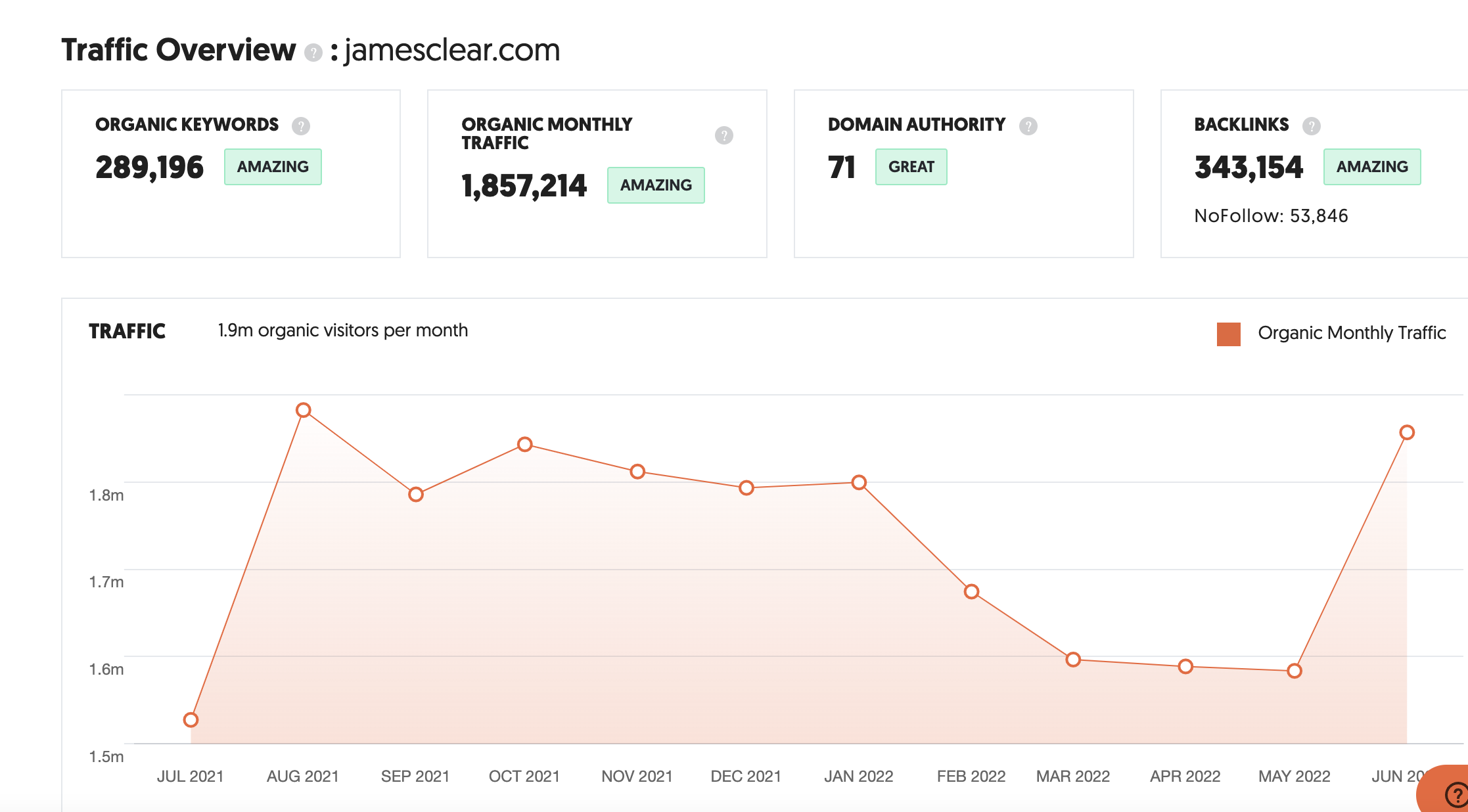 A few more high-traffic websites are listed below, which you should check to seek inspiration for your own website.
HealthLine.com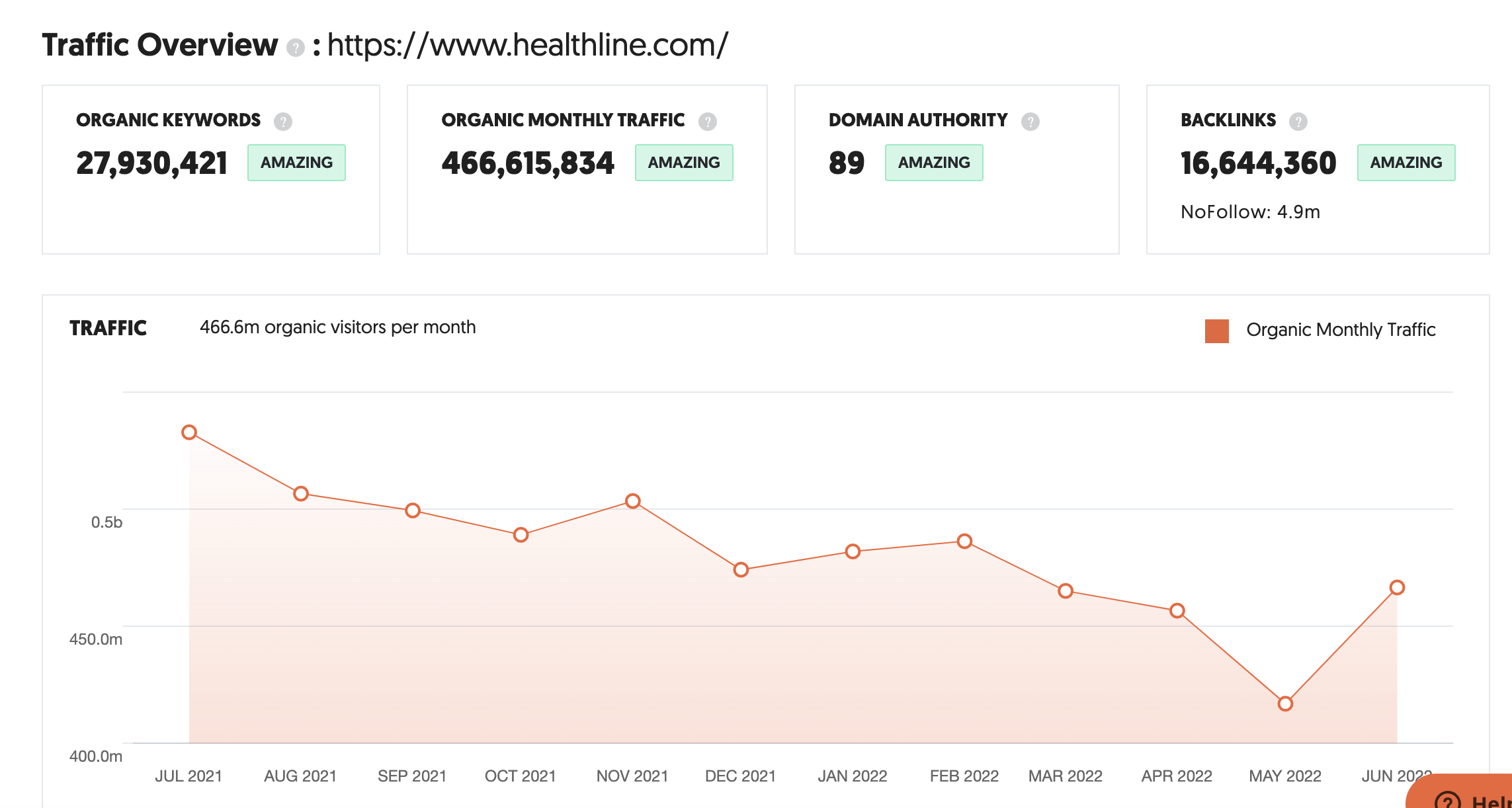 Wikipedia.org
Website structure tools
Website structure tools are used by developers, project managers, UX/UI strategists and content strategists. It simplifies the process of creating powerful site structures. Following are some of the most popular tools:
1. Octopus:
Octopus is a simple yet powerful tool. You can not only create your design but also share it with your team or client. You can collaborate online by sharing a link, and they can make changes without requiring an account
A free plan is available, but it has certain limitations. The pro plan also contains all features suitable for SEO and costs around $84/year.
2. WriteMaps:
WriteMaps offers similar features and experience to Octopus, but it is more specific to the content and used by content creators and project managers.
It only offers a free trial, and the paid version is a bit more expensive and costs about $149.90/year (Mediocre plan)
3. FlowMapp
FlowMapp is another excellent tool used for complex projects and larger teams. It is mostly popular among UX strategists.
You can try 1 demo project for free, and their pro plan costs about $99/year.
4. SlickPlan:
Slickplan is a very powerful app that contains all the website planning tools you need. It helps you to build sitemaps, design user flow, plan content, and share design mockups.
It is only available for free as a 14 days trial. Different plans are available for solo, team, and agencies at different prices.
5. Creately
Creately is a website tool with diagramming as well as design capabilities. There are two versions available, online and downloadable compatible with Windows, Mac and Linux.
It has multiple sitemaps templates available that you can simple use and edit by drag and drop feature. It has a free version which has limited functionality. As well as regular and custom plans at various prices available.
Conclusion
You can use different website layouts without losing any traffic as long it is easier for your visitors to access essential website pages in as fewer clicks as possible.
So if you are unsure how your website has been structured, it is a good idea to review and improve it to increase website traffic from search engines.